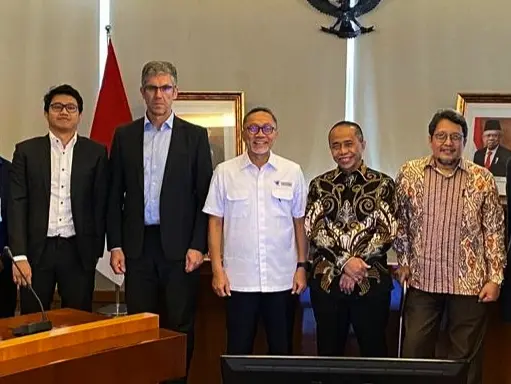 Zulkifli Hasan Menteri Perdagangan menerima kunjungan delegasi PEFC (Programme for the Endorsement of Forest Certification) dari Jenewa yang dipimpin oleh Dradjad Wibowo anggota PEFC Board yang juga ekonom senior dan Michael Berger CEO PEFC.
Sekadar diketahui, PEFC adalah skema sertifikasi hutan lestari terbesar di dunia, dengan 328 juta hutan bersertifikat.
Dalam pertemuan tersebut Mendag menyampaikan pentingnya barang produksi Indonesia diproses dari bahan baku yang lestari.
"Dalam dua dekade terakhir ini banyak sekali perusahaan raksasa dunia yang hanya mau membeli produk olahan yang berasal dari hutan lestari," ujar Zulkifli Hasan di kantor Kemendag, Selasa (18/10/2022).
Produk tersebut, kata dia, seperti kertas, bubur kertas, produk kayu, furniture, dan sebagainya.
"Sebagai contoh, perusahaan seperti Apple dan Samsung mengharuskan kotak dan kertas packaging HP-nya bersertifikat lestari," jelas Mendag.
Zulkifli Hasan menambahkan, dengan semakin besarnya perdagangan online, kebutuhan kotak dan kertas packaging di dunia semakin meningkat, mencapai lebih dari US$ 402 Miliar atau sekitar Rp 6.200 triliun pada tahun 2021.
Menurut Mendag, Indonesia dengan sistem pengelolaan hutan lestarinya sangat berpeluang mengambil pasar yang besar tersebut, sehingga ekspor Indonesia bisa meningkat pesat.
"Saya sejak dulu sangat mendorong pengelolaan hutan lestari," kata Zulkifli yang pernah menjadi Menteri Kehutanan itu.
Sementara, Michael Berger sangat mengapresiasi dan mendukung langkah Mendag. Menurut Berger, langkah Mendag tersebut telah menciptakan lingkungan yang kondusif bagi pelaku usaha Indonesia dalam menjalankan usahanya sesuai dengan kaidah kelestarian hutan.
Berger menjelaskan, PEFC merupakan skema global yang bersifat bottom up, dibangun dari inisiatif nasional masing-masing negara. Kata Berger, di Indonesia skema tersebut dibangun oleh para anggota IFCC (the Indonesian Forestry Certification Cooperation).
"PEFC adalah salah satu pelopor perdagangan tekstil dan fesyen lestari di dunia, di mana bahan bakunya adalah rayon yang diproduksi dari hutan lestari," tambah Berger.
Kepada Mendag, Dradjad menyampaikan bahwa pada tahun 2009 atau 2010 ketika industri kertas dan bubur kertas belum mendapatkan sertifikat PEFC/IFCC, industri ini sempat diboikot karena dianggap merusak hutan. Ekspor kertas dan bubur kertas sempat anjlok 25-30%.
Setelah mendapatkan sertifikat, ekspor Indonesia naik USD 2.2 Miliar atau 40%. Pada tahun 2021 nilai ekspornya mencapai US$ 7.42 Miliar.
"Kenaikan itu bisa terjadi karena kebijakan tiga kementerian yang kondusif bagi kelestarian hutan, yaitu Kementerian Perdagangan, Lingkungan Hidup dan Kehutanan, dan Perindustrian," kata Dradjad yang juga Ketua Pendiri IFCC itu.(faz)
Sumber: https://www.suarasurabaya.net/ekonomibisnis/2022/terima-delegasi-pefc-mendag-dorong-perdagangan-produk-lestari/