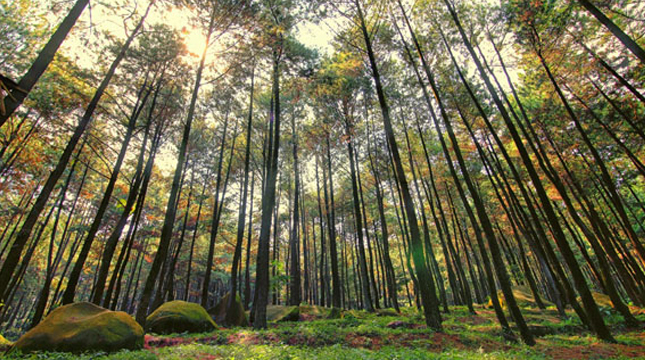 INDUSTRY.co.id - Bali, Produk berlabel Indonesian Forestry Certification Cooperation (IFCC) akan memberi jaminan hutan lestari dan akses pasar global. Hal ini karena IFCC menginisiasi sistem sertifikasi global--Programme for the Endorsement of Forest Certification (PEFC) yang merupakan sertifikat terbesar di dunia dalam pengelolaan hutan lestari.
Pernyataan itu disampaikan Ketua Umum IFCC Dradjad Hari Wibowo pada 21 Annual General Meeting di Hotel Sheraton, Kuta Bali belum lama ini. Dalam kegiatan itu juga Peter Latham terpilih sebagai Chairman baru PEFC.
Menurut Dradjad, untuk mendorong pengelolaan hutan lestari, perlu sistem sertifikasi yang memungkinkan para pihak bisa menilai kemajuan dalam pencapaiannya. Sistem itu harus dibangun secara objektif, melalui kerjasama dan kebersamaan, serta tidak melibatkan kampanye negatif dan berbagai bentuk pemaksaan dan tekanan dari satu pihak ke pihak lain.
"Karena itu, sertifikat IFCC yang diterbitkan secara independen sejak tahun 2011 terus disempurnakan dengan melibatkan stakeholder yang mempunyai komitmen tinggi dalam pengelolaan hutan yang lestari untuk menjamin fungsi ekologi dan sosial hutan dapat tetap tetap terjaga," kata Dradjad.
Dradjad mengatakan, masyarakat terutama di negara maju sangat peduli dengan produk-produk ramah lingkungan. Dukungan sertifikat IFCC/PEFC bagi produk kehutanan dan turunannya seperti kertas atau pulp menjadi sangat penting agar bisa diterima tanpa prasangka.
"Produk berlabel IFFC/PEFC sangat dikenal di pasar global karena merupakan sistem sertifikasi hutan terbesar di dunia. Saat ini PEFC memiliki 46 negara anggota. Kedepan masih ada 15 negara lagi yang siap bergabung sebagai anggota PEFC.
Dradjad menambahkan, sertifikasi IFCC/PEFC mampu memperluas pasar produk Indonesia ke negara tujuan ekspor. Hingga kini, PEFC telah mensertifikasi lebih dari dari 300 juta hektare. Di Indonesia, PEFC telah mensertifikasi seluas 1,8 juta hektare.
"Sertifikat PEFC juga tidak terbatas pada sertifikasi hutan dan hasil hutan, namun termasuk hasil industri pengelolahannya dan rantai kustodi."
Sumber berita: industry.co.id